Business Text Messaging for...
Your team gets a powerful text messaging platform for a real-time, one-to-one connection with your customers to communicate faster and build better relationships. Customers, contractors, and partners never have to install an app to get your text messages. Your team will stay productive while your company maintains full control.
Increase customer satisfaction, close more deals, and better engage customers with Loyalty BIZ text messaging.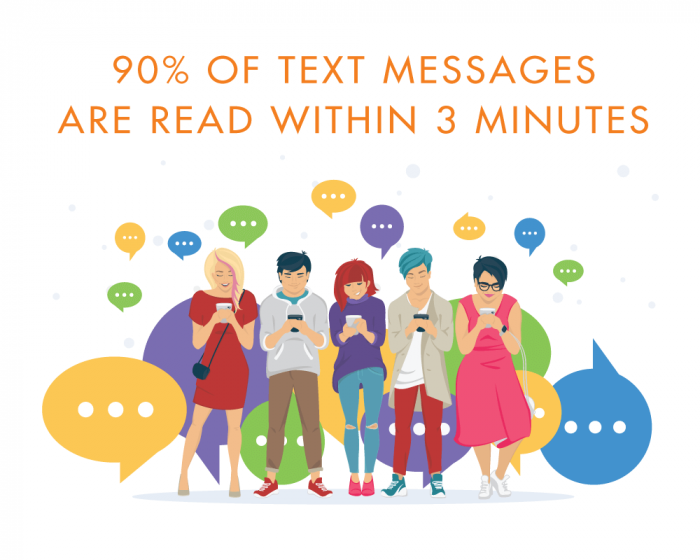 Phone, email, website... but you're missing text messaging!
Texting is why Email doesn't work anymore!
0
%
of emails are NOT opened
0
%
of text messages are opened
0
%
of texts are read within 3 minutes
0
%
of consumers prefer text over email
You no longer are reaching your customers efficiently unless you start texting.
Text or Call, One Number Does It All
Loyalty BIZ easy-to-use texting software provides all the tools you need to build and manage lasting customer relationships.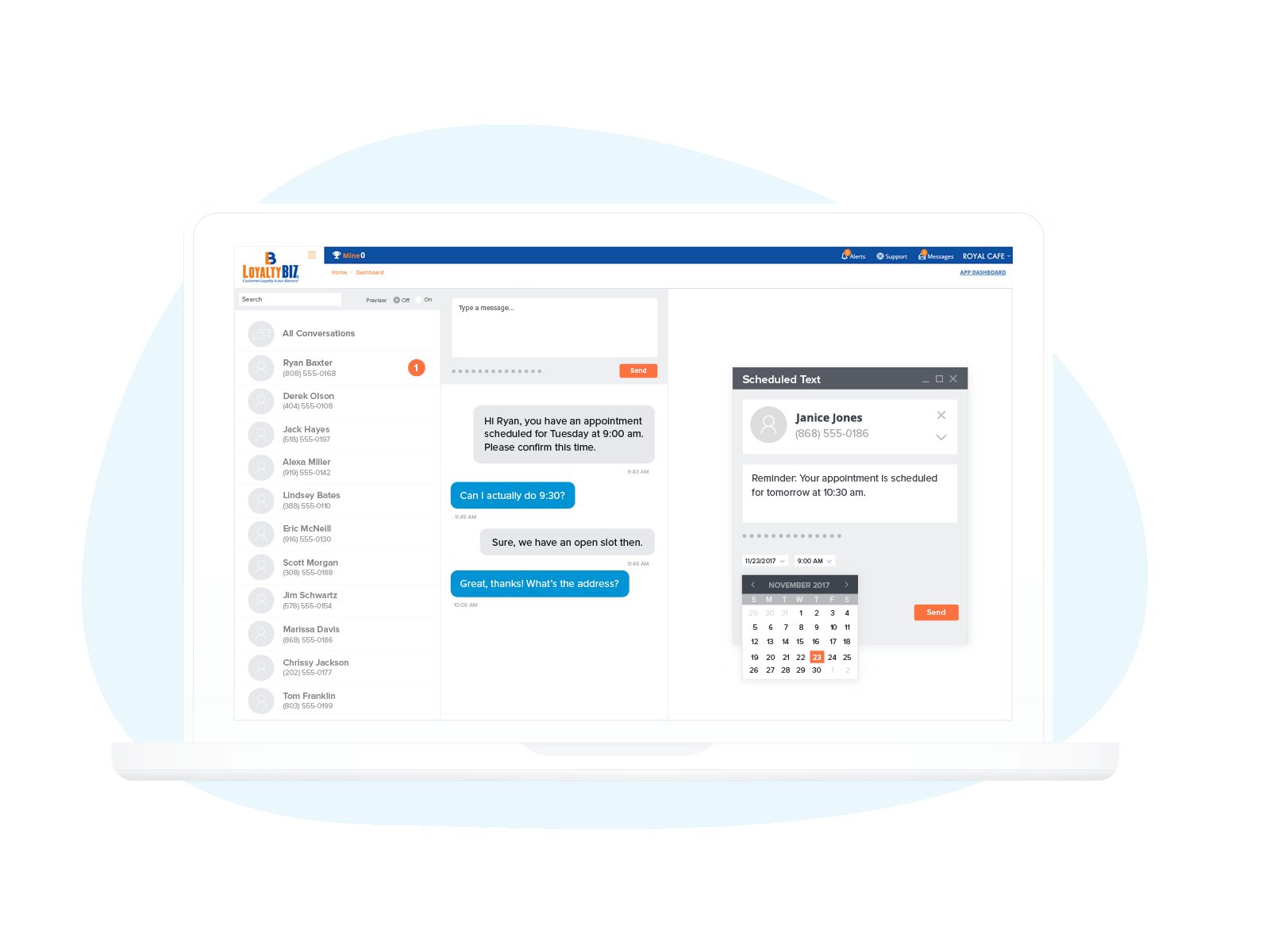 Picture Texting
Enhance your messaging experience with high-quality images.
Scheduled Texting
Compose and schedule outbound texts to be sent at a later date and time.
Auto Reply
Set an automated reply to incoming texts during non-business hours.
Group Texting
Send a single BCC (blind carbon copy) to text a group of contacts.
Receive Phone Calls
Never miss calls. Calls to your text message # are forwarded to your business # of choice.
Have Conversations With Your Customers
Loyalty BIZ helps your business create conversations with your customers. Each conversation is kept for you in your dashboard so you know what both your customer and employee said as well as the day and time the conversation took place.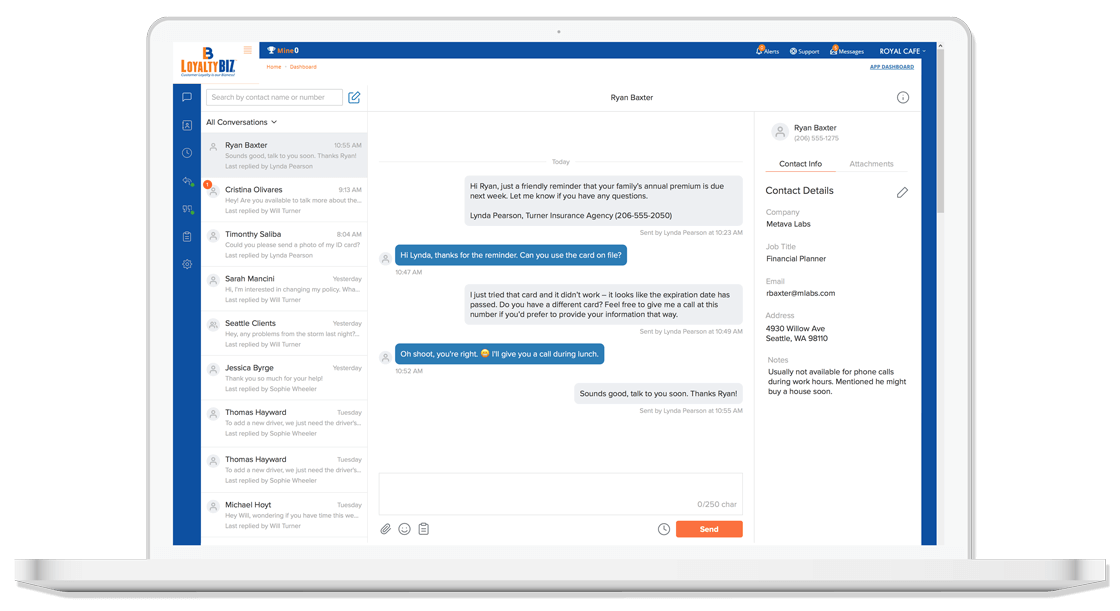 Reach more customers faster
Send text messages to your contacts. It's easier than ever to reach your customers with own two-way SMS 10-digit texting phone number. Tools like group text allow you to send a single message to multiple contacts at a time, and triggered auto-replies allow your customers to get responses back from you instantly.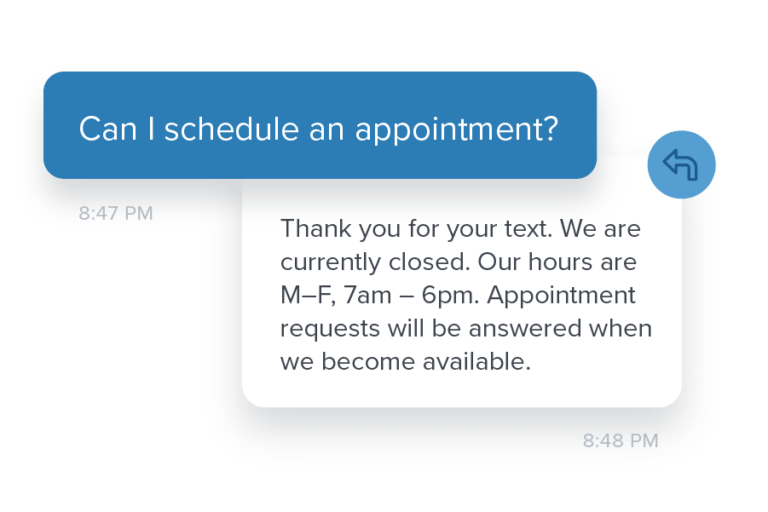 Save time and resources
Streamline your process and spend less time on administrative work. Create reusable text message templates so you can quickly send standard messages again and again. Dynamic fields allow you to personalize every message – even group texts. Schedule text messages in advance, so you can plan campaigns and never forget to send reminders. Answer common questions with set responses that trigger on specific keywords.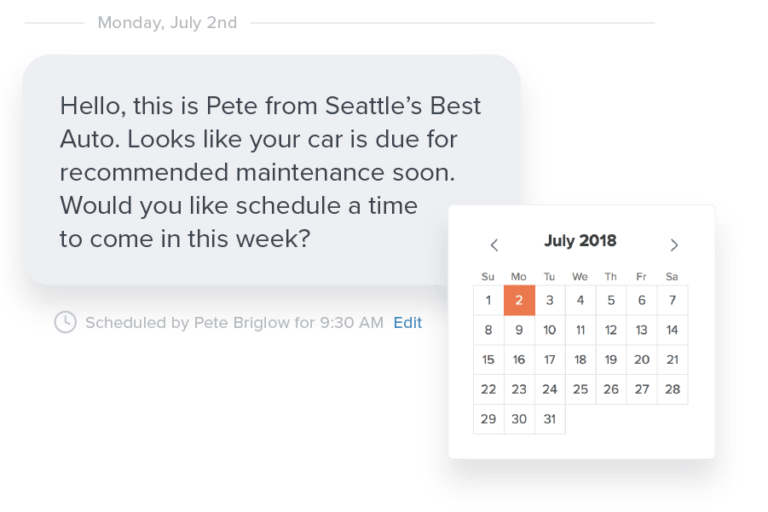 Personalize your communication
Increase engagement by utilizing the platform customers already use every day. An Emoji keyboard and MMS messages allow your texts to speak louder than words. Personalize each text with a custom signature that caters to unique customer needs. Engaging in conversational texting, not spam, will boost brand loyalty and customer retention.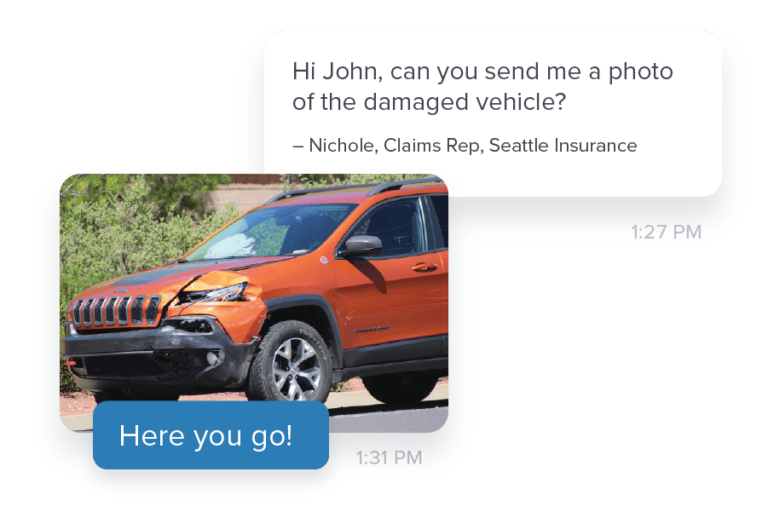 Speed up your workflow
User-friendly account management tools simplify our sophisticated software. Easily add important details to contact cards, and use the search function to quickly find contacts or groups. Mark inbound messages as unread to optimize your team's workflow.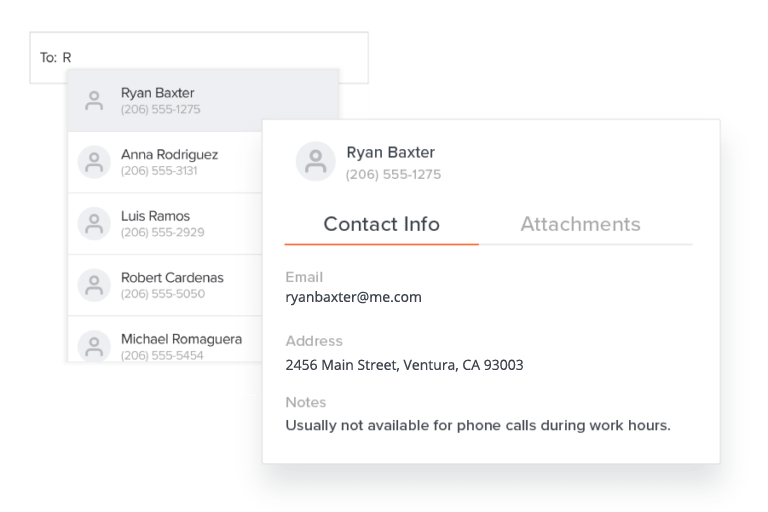 Upload Your Contacts
Contact more customers at once with Loyalty BIZ contact import and group text features. And since SMS comes preloaded on every cell phone, your customers don't need to download an app in order to get the message.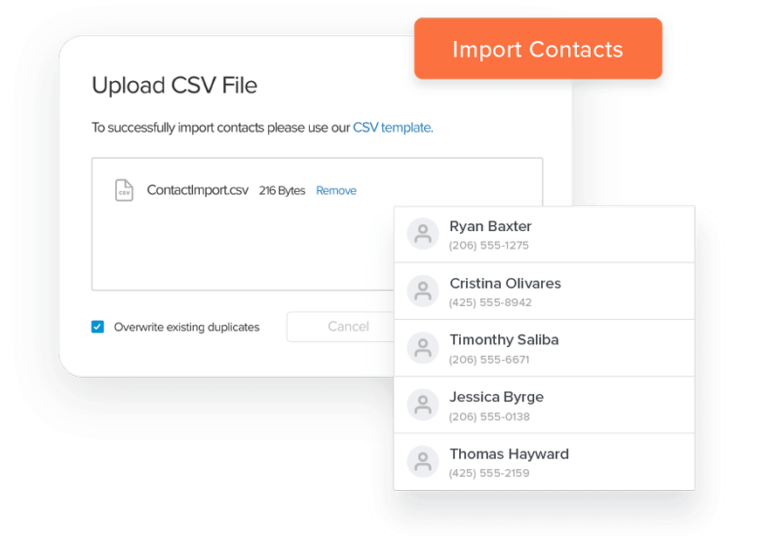 Get an Immediate Response
People respond instantly to text messages. No longer do you need to wait hours or days for a reply email. Loyalty BIZ automation tools like keyword triggers and auto replies further enable rapid-fire conversation with customers so your team can solve problems quickly in real-time.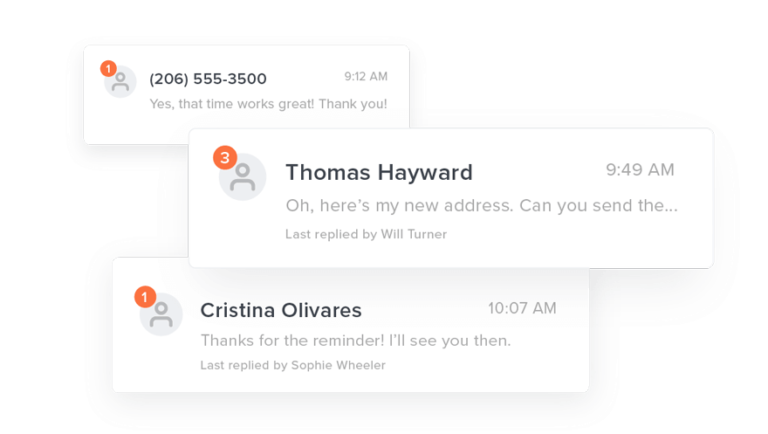 Make Your Team & Business More Productive
Save time and money with features geared toward productive teams. Share files instantly with MMS picture messaging, and get work done more efficiently with templates, conversation filters and multi-user switchboard capabilities.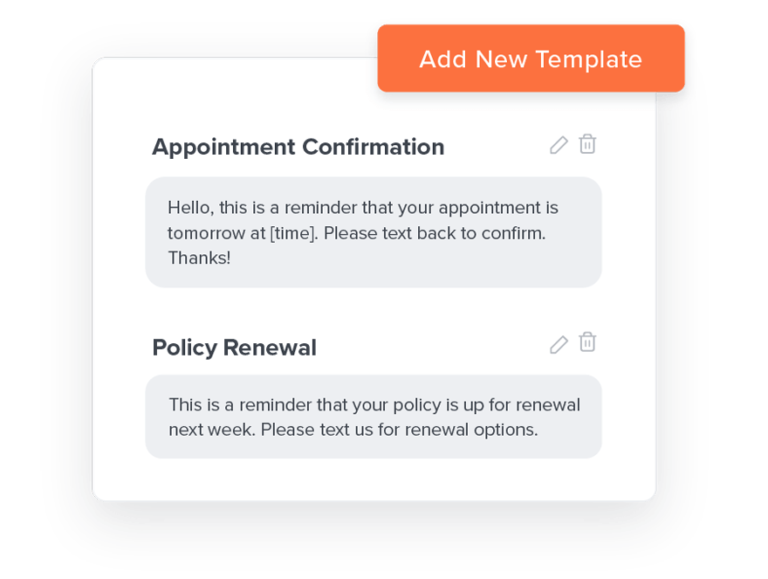 Your customers want to text you
Your customers no longer want to call or email you! Loyalty BIZ allows you to text and engage in conversations with your customers via the medium your customers prefer most, text messaging.
"Hardly anyone would answer our calls and they wouldn't call us back. Now we're using texting instead and almost everybody responds. Like, immediately."–
Lawrence Alan, Creative Display Ads, Inc.